"
Dear Captain Pat and sons, My wife and I would like to thank you for the dignified and great service you provided on the 14th of June for our Daughter, Wendy. It was a trying day, and your good work and compassion made the entire evolution as something special-for that, we humbly thank you. Please know also, the family of a Veteran, me, that you provide one of the greatest services that a family could ever ask for.. The very best to you and your sons. Sincerely Jo Ann and David.
"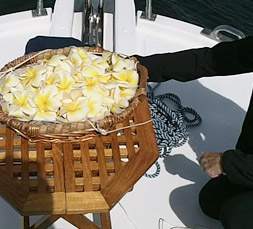 A burial at sea memorial service with the scattering of a loved one's ashes is a beautiful, moving, and touching alternative to the traditional graveside memorials. Our highly affordable sea burial memorial services are performed by Captain Pat O'Connor, a Missionary, Ordained Minister, former U.S. Army Airborne Special Forces Green Beret and classical guitarist. Our small intimate memorial ceremony is fashioned after the immediate family graveside services or planned around your personal preferences.
Please thoroughly read each page to fully understand what we do and how we are supported. The Last Watch is a non-profit public benefit charitable trust. By definition, we are not a commercial business. We have been granted this status and are registered as a non-profit charitable trust by the Attorney General, Department of Justice, Secretary of State, and Department of Consumer Affairs.
All that we provide is highly personal and professional as we handle every aspect of the sea burial ceremony for you. From attended burials at sea, unattended burials at sea, revisit to the burial site, view from shore and multiple scattering of ashes, we take great pride in delivering a truly special burial ceremony that will be remembered for a lifetime.
Our services include event planning, flower arrangements, music, catering, restaurant reservations, personal and family counseling, individual bereavement (grief) counseling and so much more. Local restaurants love what we are doing and will help us in several ways when you would like to plan a memorial luncheon or a gathering after the scattering of ashes at sea. They give you a special dining room, often a special menu and server, discounts, free deserts , appetizers, etc. If this is appealing to you, we will discuss suggested restaurants and make the reservations for you.
A family that was recently on our boat said it was the most beautiful funeral they had ever attended. With the prayers, music, flowers, and gorgeous setting, that said it all. We were all so happy just to have been a part of a ceremony that meant so much to them. We have been so blessed with this ministry hearing from so many families expressing their gratitude and the wonderful experience they had. What it meant to them and to share it with them is beyond what I ever dreamed.
Please contact us with any questions about our services and learn what we can do to take the burden off of you.