About Us
Dear Pat and Sean,
We wish to take this op[opportunity to express our sincere thanks for the you provided for our family in the spreading of our dear Linda's ashes. Your kind and cooperative attitude meant so much, especially given the fact that we had to re-schedule the service due to illness in the family. The cruise out to the site was calm and enjoyable, and your instructions were very helpful. You are to be commended for your professionalism and compassionate manner. Again, on behalf of all our family, thank you so much!
Sincerely, ~Robin
[
More Reviews >>
]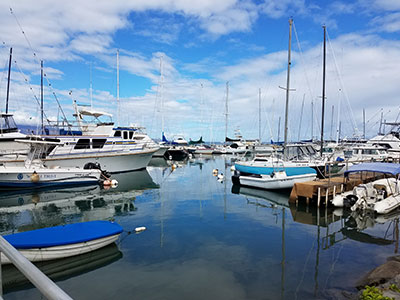 These are unprecedented, more than 'difficult' times. Many are suffering from the Pandemic with isolation, loss of jobs, and the daily pressures and heartache of just trying to cope, manage their finances, and just trying to make it to the next day. And all of that on top of the loss of a loved one and the natural grieving process that follows.
Sadly, some of our 'competitors' will take advantage of you. We are all too familiar with this practice which exists throughout the industry with Crematoriums, Funeral Homes, Casket companies, etc. As a company that you might turn to for 'help', we are extremely concerned about your situation and will do everything we can to hopefully make it affordable, actively show that we really care, and give our promise to you to make this process as comforting and loving as can be imagined. You will have our undivided attention the moment you give us a call. And you will be given all the time you need and all the information to make any forward steps in scheduling a scattering-of –ashes at sea.
Most importantly, we are USCG certified as a legal charter and licensed by the State of California to perform the scattering-of ashes-at sea. As a USCG certified vessel, we will be the safest boat you step foot on. We urge you to not take this too lightly! Many companies operate illegally, just to make money, and could care less about your safety on the ocean.
A Thoughtful Send-Off for Your Dearly Departed
A burial at sea memorial service with the scattering of a loved one's ashes is a beautiful, moving, and touching alternative to the traditional graveside memorials. Our highly affordable sea burial memorial services are performed by Pat O'Connor, a Missionary, Ordained Minister, former U.S. Army Airborne Special Forces Green Beret officer and classical guitarist. Our small intimate memorial ceremony is fashioned after the immediate family graveside services and planned around your personal preferences. The day is yours and will be planned to honor your requests within legal limits. Our yacht is never 'shared' with another family. She is 'yours' for about two hours that we are together.
Why Get Our Burial Services?
Everything we provide is highly personal and professional as we handle every aspect of the scattering-of-ashes ceremony for you. We ask you to consider your options when selecting a specific type of burial-at-sea service. Please review our traditional services, View from a Pier, Multiple unattended scatterings for the Crematoriums and Mortuaries, and Single unattended scatterings.
Of these, nothing is quite like the experience when you are a passenger on a boat. We have a wonderful time at sea which takes about two hours. It is the most expensive of all the options so we ask you to please review all of the services we provide. Budget is important! Basically, the more people you put in a boat, the more expensive it will get. For-profit organizations may charge as much as $100 per person and find it necessary to tack on such charges as tax, harbor fees, increased fees for the service being on a weekend or an afternoon! So be careful. We would never do that to take advantage of you in any way. We find it appalling that they would charge you for food, drinks, and flowers. With us, all of that is free!
We are a non-profit, public benefitcharitable trust so make every effort we can to be different from these types of companies. Surprisingly, you may find that View-from-a-Pier very attractive as well. Please review the section on Advantages. We take great pride in delivering a truly special burial ceremony that will be remembered for a lifetime. Some of the greatest advantages of a View-from-a-Pier service has to do with cost, ease of attendance for the handicapped, elderly, and families with children, and no one is seasick!
Our services include event planning, help with hotel and restaurant selections, help with bereavement counseling and so much more. At no cost to you, we provide food, flowers and drinks as well. If you would like professional Photography or Videography, we can also help you with those arrangements. We would also like to announce that we also offer live streaming of the ceremony around the world!
There Is Nothing Quite Like A Heartfelt Testimonial!
One of the most beautiful of our experiences is that we get letters from the families who have been with us. I was thinking that sharing this is probably better than 'tooting' our own horn. Perhaps they tell the best story about us:
"Thank you so much for allowing Christ to use you for such an awesome ministry. The 'Ashes at Sea" ceremony was beautiful. You made us feel very comfortable. It was a peaceful journey. I know our loved one was truly satisfied with the love and care taken during her final departure from this earth. Thank you for your Christ-likeness; it was a welcomed addition to the ceremony.
God bless you! In His love,
Charmainee"
A family that witnessed one of our ceremonies said, "it was the most beautiful funeral they had ever attended". With the prayers, music, flowers, and gorgeous setting, that ' made our day'! We were so happy to hear this and just to have been a part of a ceremony that meant so much to them. We have been so blessed with this Ministry hearing from so many families expressing their gratitude and the wonderful experience they had.
What it meant to them and to share it with them is beyond what I ever dreamed.
Know that there is a company out there that cares about you. A company that provides you with the finest of yachts and the best of all services. A company That will listen to you, hear your needs, and do everything to make the process easy.

The 5 brief points that describe us:
1. Who: The only non-profit company to provide these services and the only company in The United States to provide these services to the Military and their families. Also, the only company that provides you with free flowers, free food, and free drinks. The only company that does not increase your price should you select a weekend or holiday.

2. What: A 5 star USCG Certified vessel licensed to carry a maximum of 12 passengers operated by a Master Captain. A 40' Motor Yacht. One of the most beautiful and safest boats in Long Beach.

3. When: The only company that that does everything at your convenience. We go out every day of the week at any time that you choose. We recommend you try to choose a morning over an afternoon which generally has the best sea conditions.

4. Where: We are stationed in Shoreline Marina in Long Beach close to 14 restaurants, shops, the Aquarium of the Pacific, the Hyatt, and overlooking the Queen Mary.

5. How: Call us at any time to learn about the scattering-of-ashes-at-sea, ask any questions, and book us online. Booking is done simply by clicking on the ylloe Donate button on our front page.
Pay attention to the Company you hire!
As a non-profit, we should be the least expensive. As you shop around, please ask yourself, "How could this other company be cheaper? They are a for-profit company." Simple answer: a. They can't and be operating legally. One of the biggest problems we are facing in this industry is the existence of many companies that are operating illegally. The USCG is constantly trying to catch these businesses and shut them down. Why should the USCG care? One answer: Your Safety! By operating illegally, these companies (some of our competitors) skip all the regulations and thus expenses required by the State, City of Long Beach, Marinas, and the USCG. If you don't pay the required taxes, harbor fees, do not abide the law or the state and City regulations, you save a lot of money! Cutting these corners means you can charge less and still make money!
Here are some examples of how to detect an illegal operation:
To operate legally in Long Beach, we have to pay an additional 8% to the City on all monies we receive.
In Long Beach, we must be physically located in Rainbow Harbor which is an increase of at least $200/month in slip fees.
To legally scatter ashes, we have to pay all the fees to be licensed by the State to do so.
Boosting our yacht to meet the USCG safety requirements cost us $50,000.
USCG inspections are an additional cost each year.
So, you can see that cutting corners, however, endangering your safety, you can make your services a little cheaper. If you knew this as you check out prices, would you take that chance to save a few dollars. Ho much is your life and the lives of your family worth?
Here-in lies the most difficult challenge: As a member of the general public who knows little about boating or burials-at-sea, how could you detect an illegally operating business?
That is very difficult. It really is a matter of asking enough of the pertinent questions such as:
Where are you located?
What is your CRD license number?
What is your business license number?
Can you show me proof that you are paying the proper taxes to Long beach?
Let me see your USCG Registration
Let me see proof that you and your company are enrolled in a required Drug and Alcohol Consortium.
We believe so strongly in honesty, transparency, and in giving. We Are Not a charter boat company or a commercial business operating out of a private dock. We are a non-profit public benefit charitable trust operating out of our office-5150 PCH, Suite 200 in Long Beach. Our boat is in the Shoreline Village area of beautiful Rainbow Harbor. This has become a 'destination' area for many to enjoy the numerous stores and restaurants. A stroll through the village or a celebration luncheon following our ceremony is often planned by the families that contact us.